To present its new action-cam to the French press, DJI chose the city of Annecy, on the occasion of the High Five Festival, which puts in competition dozens of films and short films dedicated to board sports and riders. An ideal setting for us to try out this new DJI Action 2 in the best conditions.
A completely redesigned model
From their first camera, DJI finally kept only the logo and redesigned everything from scratch. Because if the Chinese manufacturer is – by far – the world leader in leisure drones, it remains a challenger on the action cam market, facing other players like GoPro, Xiaomi or Insta360. In order to make a name for itself in this sector, DJI had to hit hard and offer a camera that breaks with market standards.
In a small cube of 56g, DJI has managed to offer a 4K camera with a 1/1.7 inch sensor, capable of recording videos up to a maximum definition of 4K/120 frames/second and a FOV 155°. On the other side of this sensor, a 1.76-inch OLED touch screen that allows you to use the camera without necessarily having your smartphone or other accessory at hand.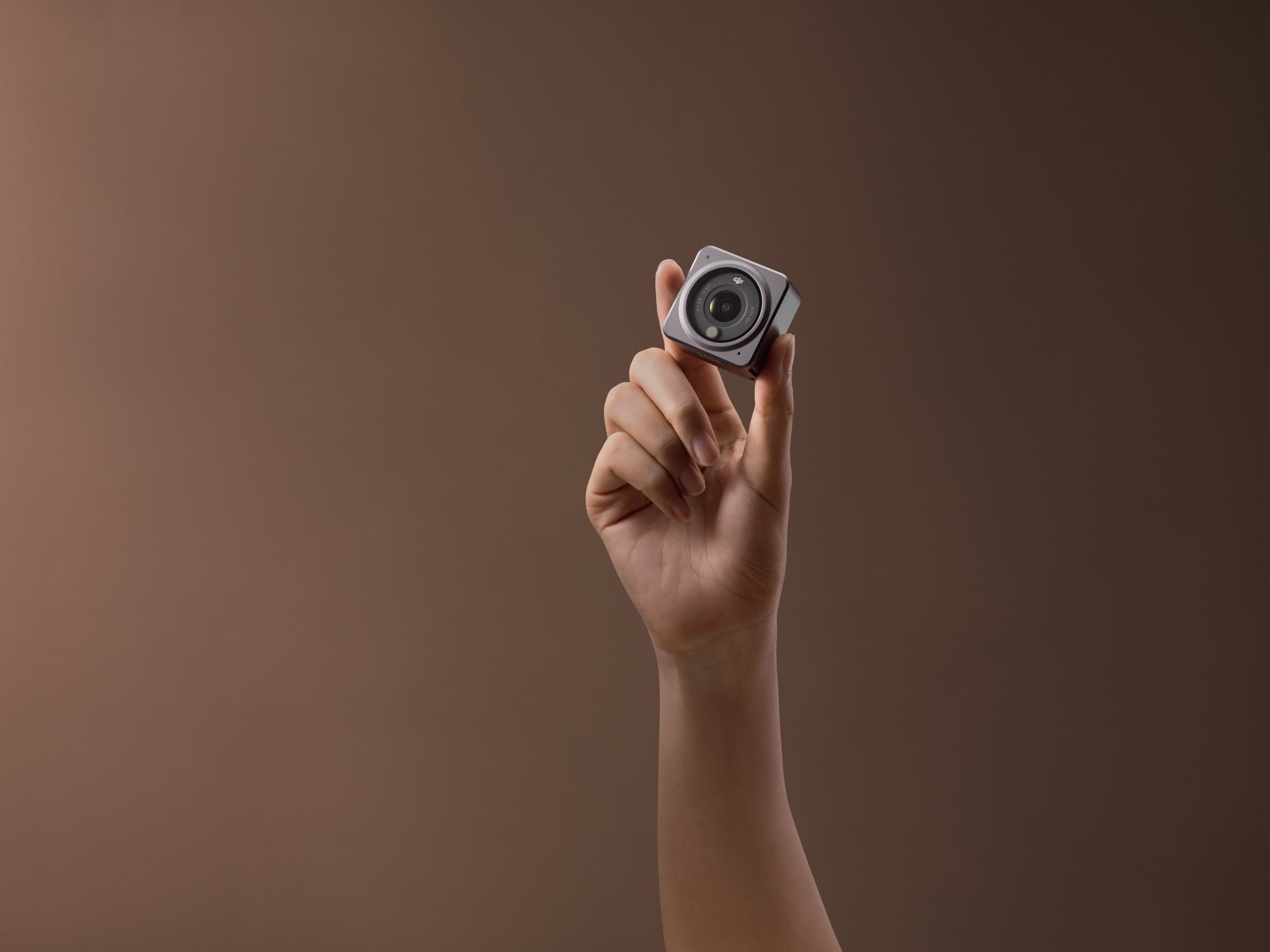 What stands out immediately is this very compact format that fits in the palm of the hand and yet offers capacities at the level of the best action cams on the market.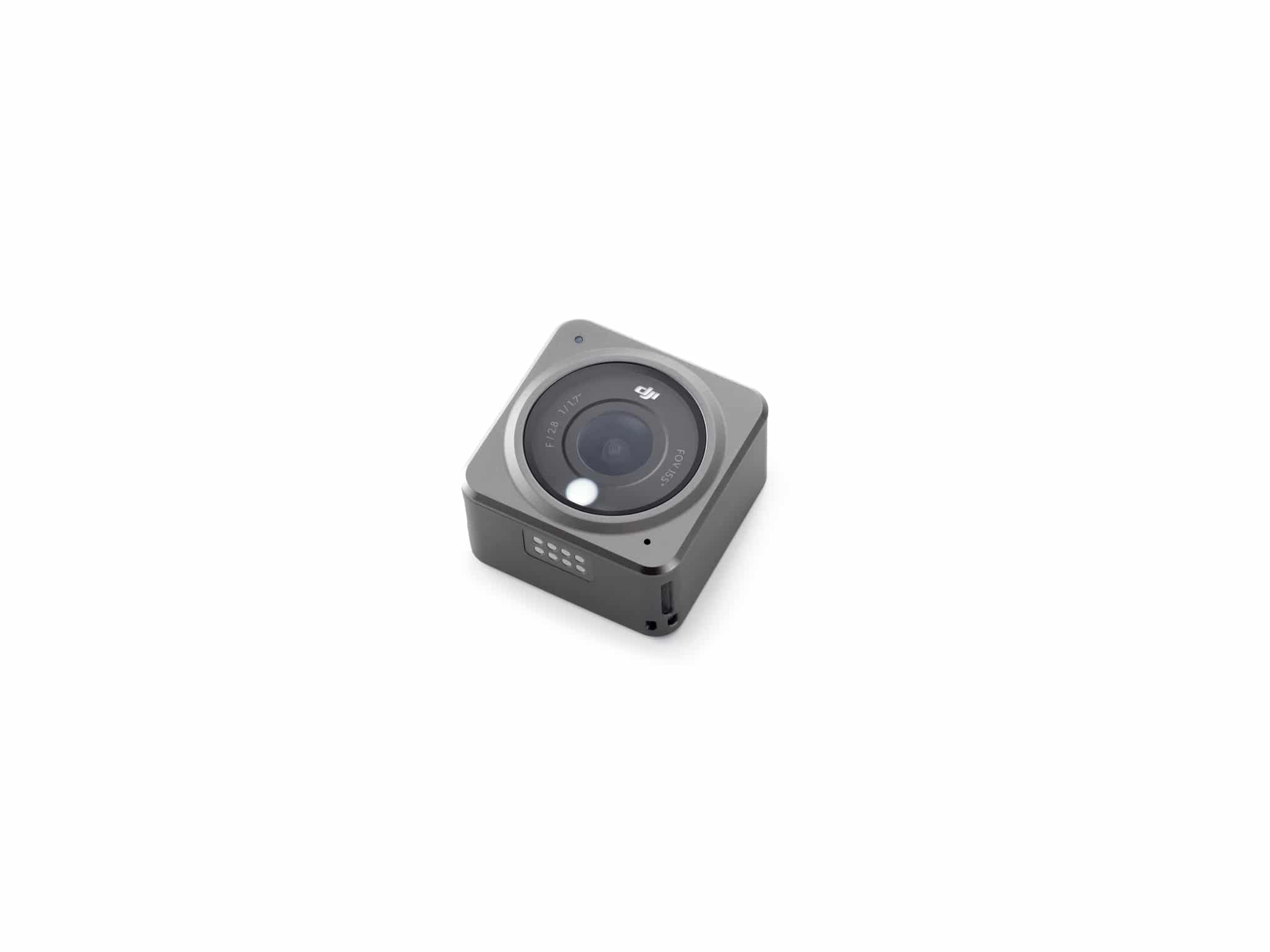 In addition to the traditional 4K, it can also shoot in 1080p and 2.7K depending on the needs or the type of stabilization required, such as the HorizonSteady mode, which always keeps the horizon fixed via software stabilization.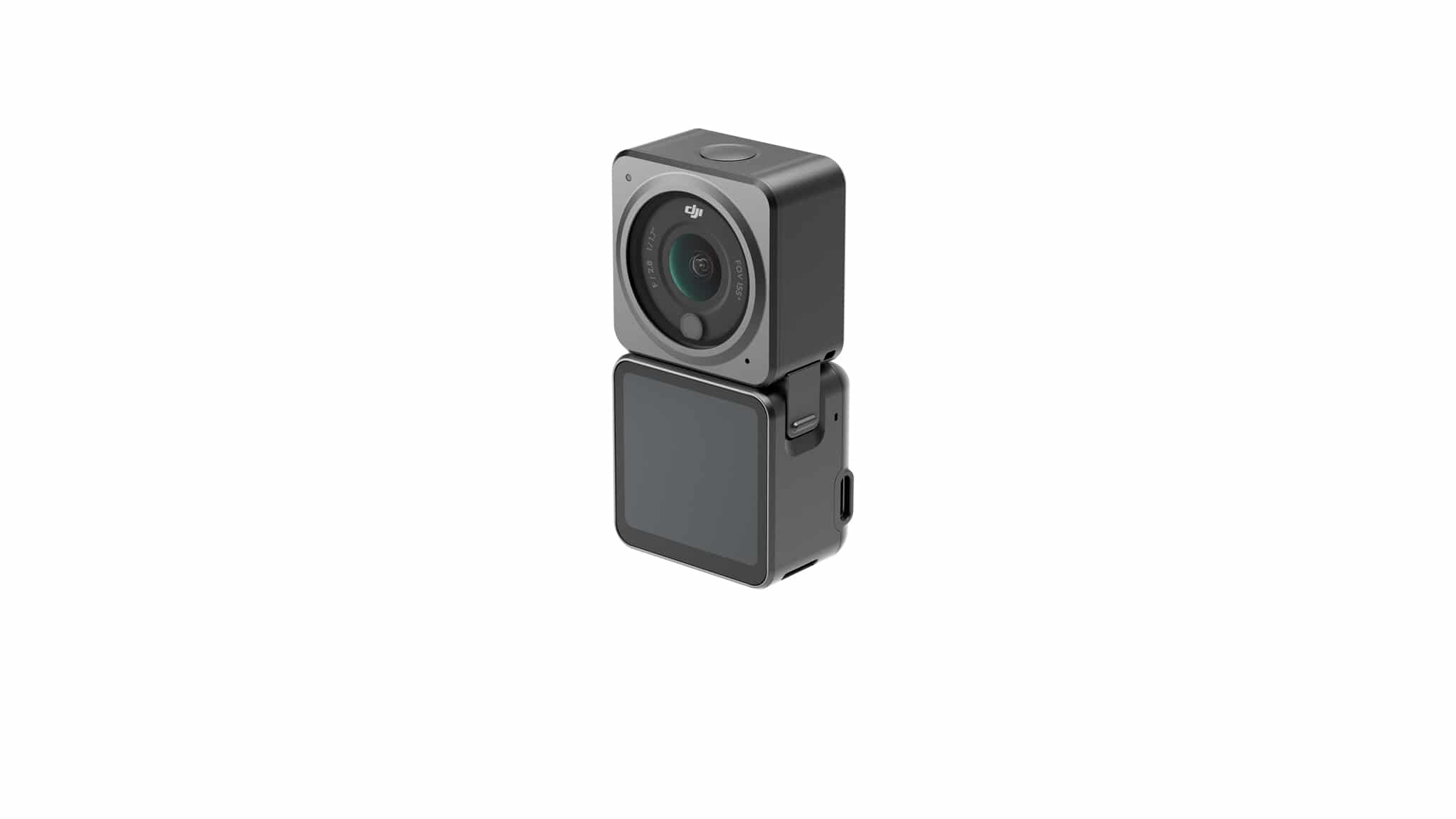 Its small size might lead you to believe that it is fragile, but this is not the case: dustproof, waterproof up to 10 M (it is IP68 certified), the DJI Action 2 can be used without any particular precautions and without having to plan its actions excessively. Once fixed thanks to its magnets and / or its hooks – we will come back to this later – it only remains to turn it on and film immediately, thanks to the Snapshot option, which allows to start filming in less than a second. For the sake of simplicity, there is only one physical button to turn on the camera, start filming and stop recording. It is simple, and in a few minutes, we understood how it works.
Finally, several additional modes, such as Timelapse and Hyperlapse allow you to vary the types of shots, and the Action 2 also supports slow motion video recording (4x in 4K/120 fps and 8x 1080p/240 fps).
A camera to take everywhere, all the time
But enough of the technical stuff and let's focus on its uses. DJI has designed a small and light camera, which will slip easily into a jacket pocket, a handbag, to be always at hand.
With its weight and small size, we can imagine new uses, and make the Action 2 a creation machine that we will always have somewhere on us, in a bag or in the car, and that will be ready to record in less than a second.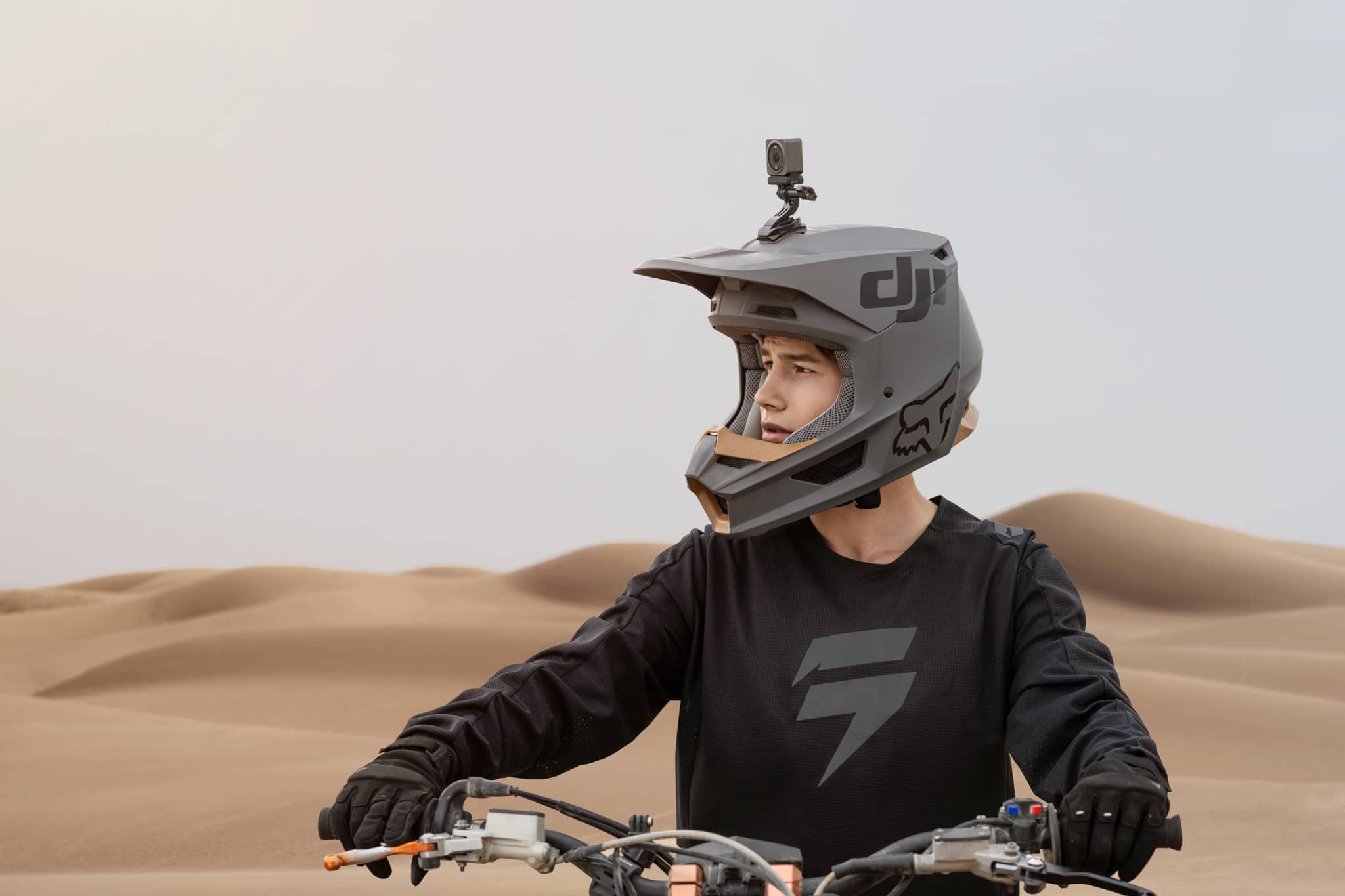 And if your needs go beyond a vlog or a room-tour, this Action 2 is also in its element when it comes to skiing down the slopes, hanging on to an FPV drone or going for a paddle on the beach.
A magnet to hang them all
L'autre innovation de DJI sur cette Action 2 concerne les possibilités de fixations de la caméra, au delà de ce que propose aujourd'hui la concurrence. Grâce à un puissant aimant à sa base, la caméra peut se fixer sur n'importe quel surface métallique ; et surtout, peut profiter de ses accessoires qui étendent énormément ses capacités.
The DJI Action 2 also has two notches, which allow its accessories to be clipped and firmly attached to the camera, while allowing a quick release and especially the transfer of energy and data between the camera and its two complementary modules.
One or two screens?
As we have seen, the DJI Action 2 offers a touch screen on the back of the sensor, but also an additional screen module that will clip and magnetize under the main camera. This second screen, also OLED of 1.76 inches, allows to reproduce what the camera is filming, ideal for vlog or webcam use.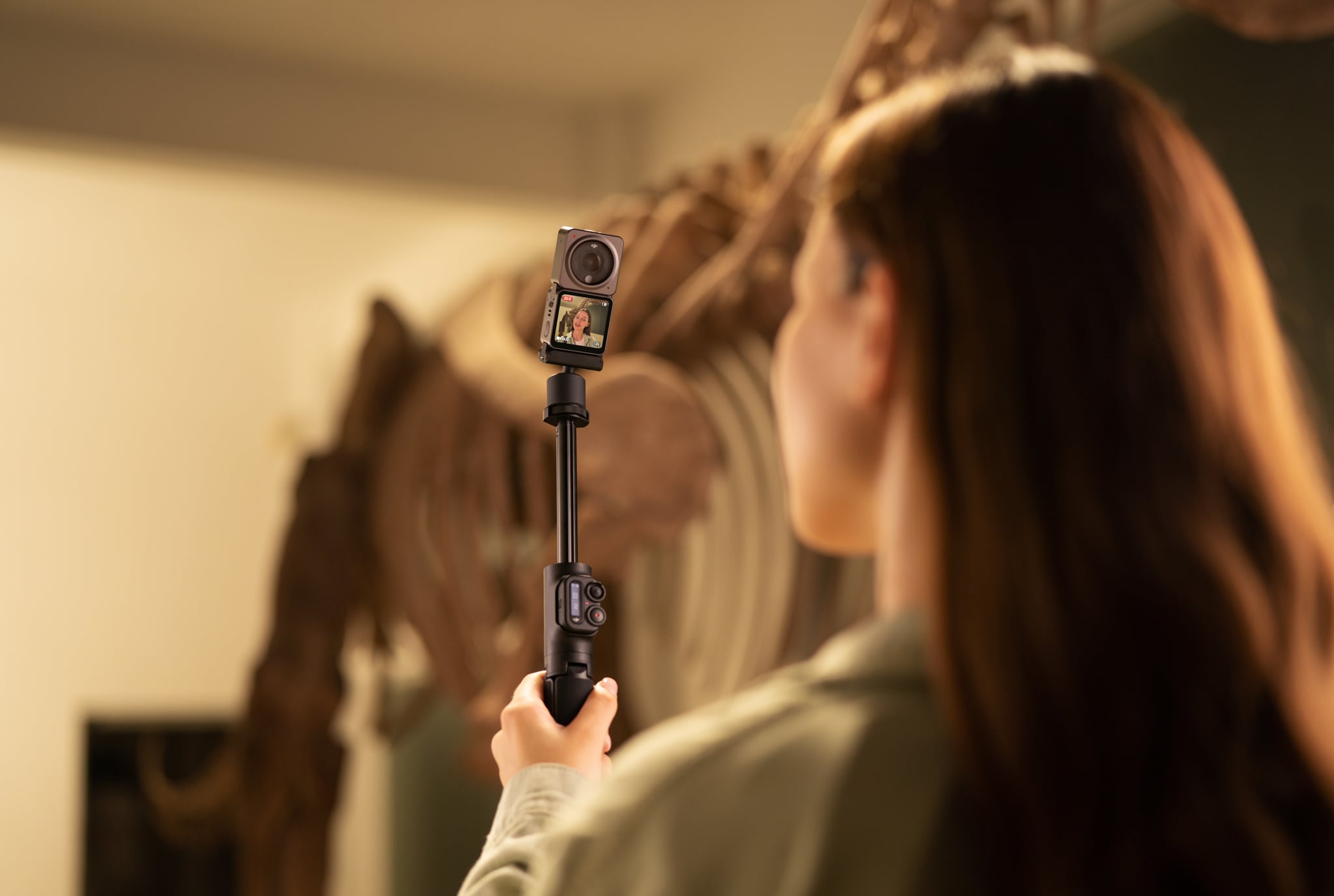 This add-on module also has a battery life extender and above all a micro-sd port that will allow you to record directly on the card, or to download the contents of the Action 2's internal memory.
Available as an accessory or as part of another package, DJI also offers a power module, whose main function is to nearly triple the Action 2's battery life, and also offer a micro-sd port.
For sound, we recommend using the additional screen module, which offers 3 microphones in addition to the camera's only microphone, offering a much more accurate rendering, for vlogging for example.
Let's go back to the technical side of things for a moment to talk about autonomy, which is perhaps, as is often the case with this type of product, the Achilles heel of our Action 2.
DJI claims a total recording time of 70 minutes for the camera alone, 160 minutes with the additional camera module, and 180 minutes with the power module. But these figures are valid (and about right) for recording in 1080 p/30 ips in power saving mode.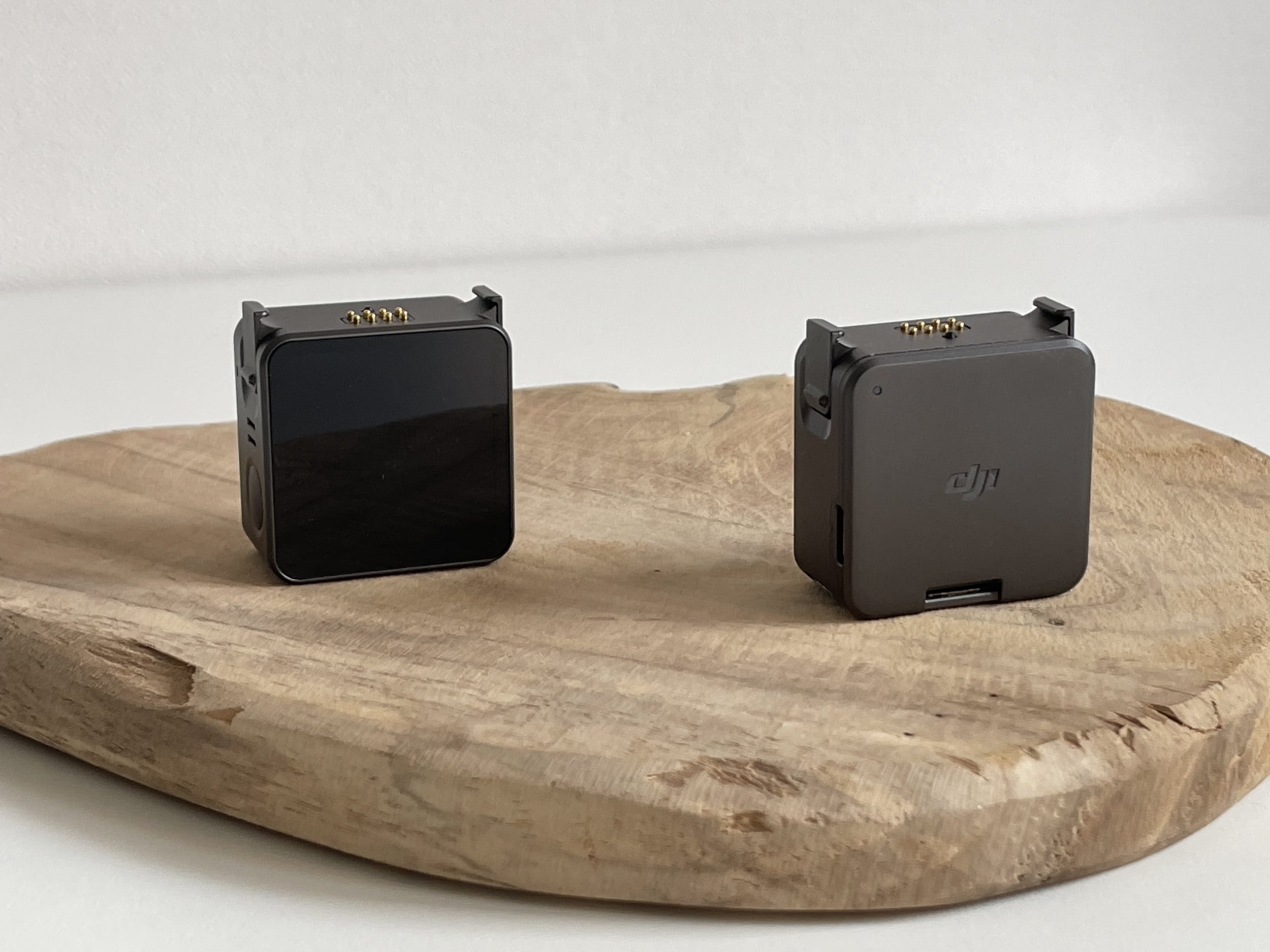 If you plan to get the most out of your camera, filming in 4K at 120 fps, count on a real autonomy almost half in the worst case scenario. With several tests, depending on the length of each sequence and the outside temperature, we obtained in general an autonomy around 40 minutes for the camera module alone. It's not much, but close to what some competitors offer, with the possibility to clip an additional module to continue filming, or to use these modules as a powerbank, instantly recharging the battery of the camera when they are connected.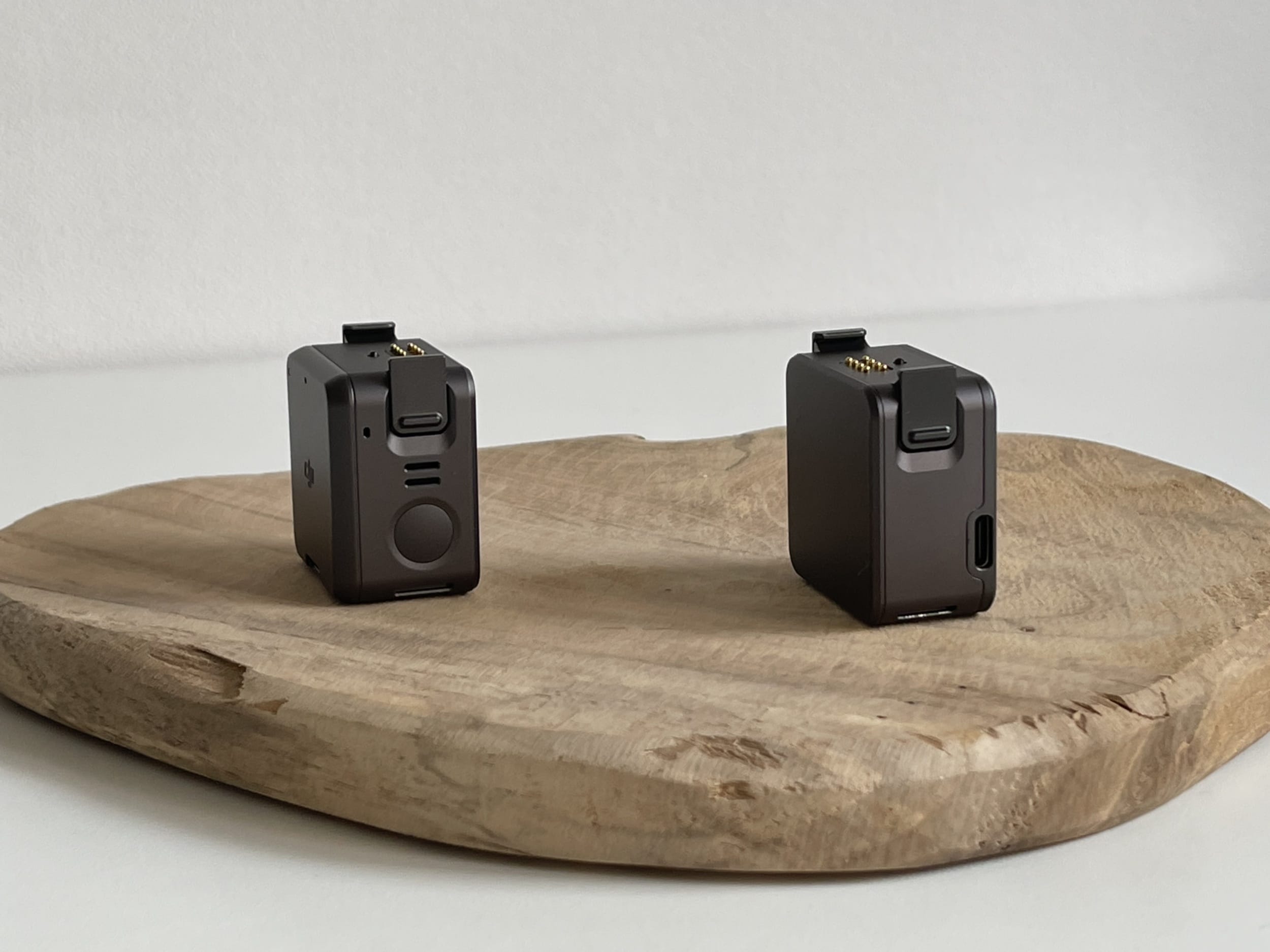 Like other DJI products, the Action 2 comes into its own with the DJI Mimo app, capable of connecting via Wifi or Bluetooth, to fine-tune settings, trigger remote recording, manage a live broadcast on social networks (compatible with 1080p livestream), or simply view, sort and create content with the rushes.
A -very- complete range of accessories
The DJI Action 2 offers a range of specific accessories from launch, some of which come directly with the camera. In fact, we detail the packs below.
One example is the magnetic cord, whose capabilities we had the opportunity to test during a bike ride. The cord slips under clothing and the camera comes to be magnetized over it, finding itself rather well fixed on the chest. Ideal for individual activities (cycling, running, etc), it can be replaced by a headband also available as an accessory when a POV view (for the car, trail, etc) is more suitable.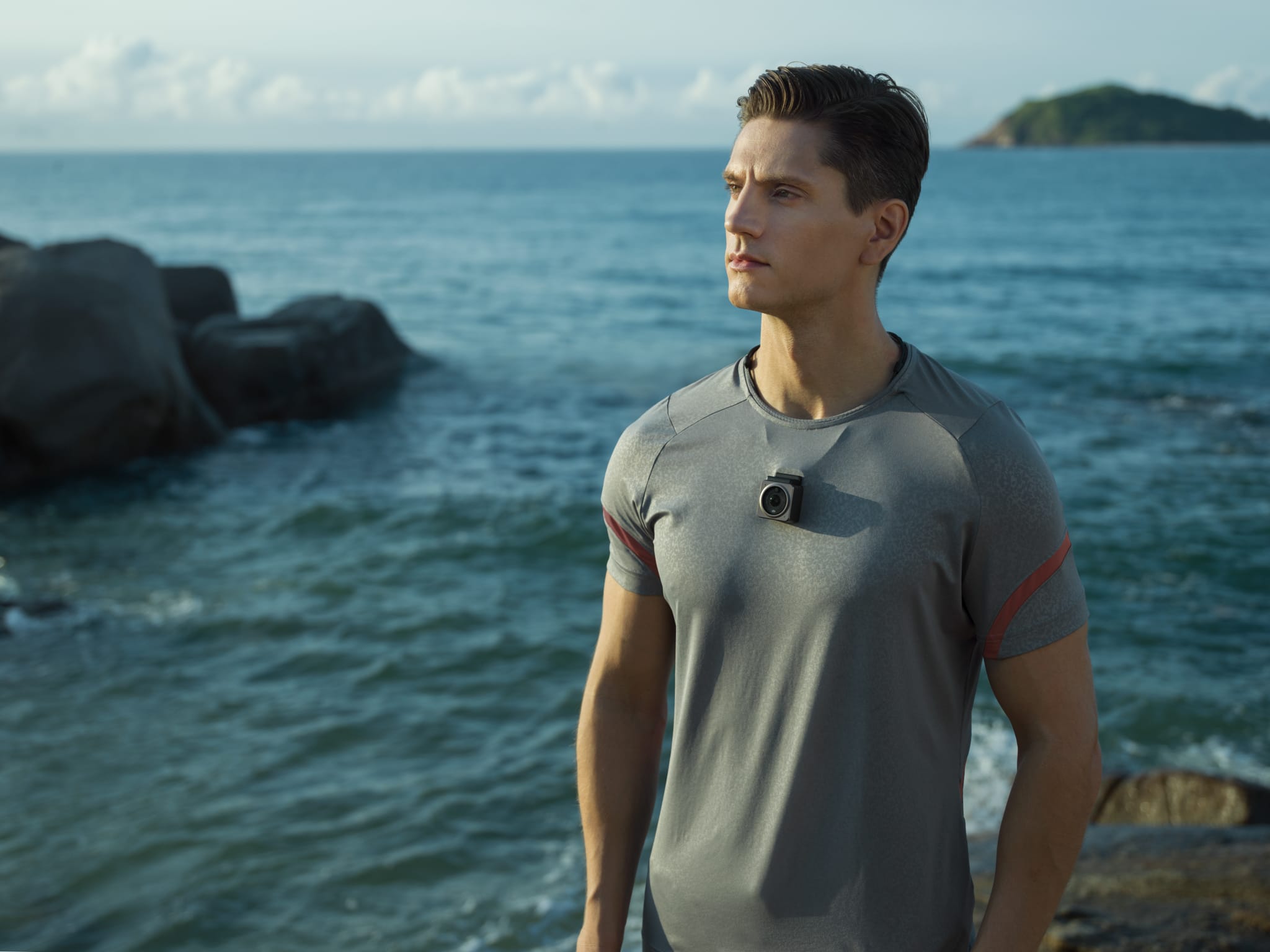 Another must-have accessory are the two DJI installation brackets, which allow you to use the vast majority of camera accessories, including those from the competition. The first has magnetized hooks to hold onto the Action 2 and an articulated screw thread, for tripods for example; the second takes the magnetized hooks and has the famous folding arms used on many third-party accessories.
One package is available today, the DJI Action 2 Dual Screen, and a second, the DJI Action 2 Energy bundle will be available starting in late November 2021.
The DJI Action 2 Dual screen bundle includes the DJI Action 2 camera, a front touchscreen module, magnetic cord, magnetic articulating installation bracket, magnetic installation bracket, and USB-C power cable, for a MSRP of $519.
When it comes to the DJI Action 2 Energy Bundle, it will offer the DJI Action 2 camera, power module, magnetic cord, magnetic articulating installation bracket, magnetic installation bracket, and USB-C power cable, proposed at $399.
These packs can be augmented with a number of DJI accessories, such as the control extension bar – which serves as a tripod with an extension and has a detachable remote control – the DJI floating handle, which allows you to film in the water without fear of your Action 2 sinking, or the waterproof case, which is capable of housing the camera and one of its two extension modules, for filming at depths of up to 60m.
Our review of the DJI Action 2
After an intense day of testing in Annecy, and a few days in its company for further testing, we realize that DJI's proposal is not lacking in interest, offering in particular a form-factor and as a result quite different uses from the competition.
Not everything is perfect on this Action 2, but the Chinese manufacturer innovates and dares to go off the beaten track, hoping that the public, and especially content creators are at the rendezvous!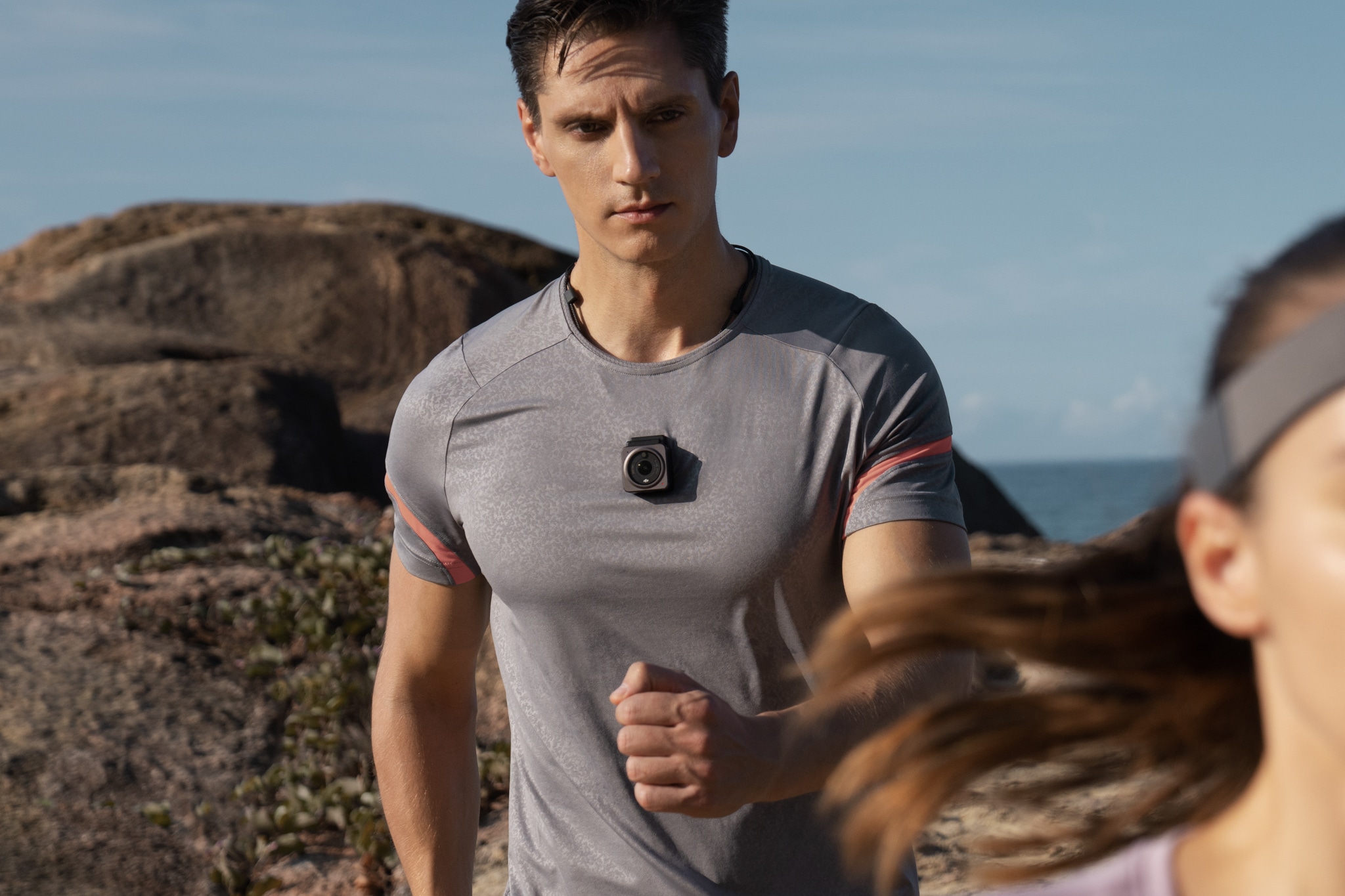 At the chapter of regrets, if the low autonomy of the camera module in 4K 120 fps is easily compensated by the possibility of clipping the screen or the additional battery to it, it is really a pity that these two extensions are not waterproof by default and that you have to think about encapsulating the whole thing in the shell available in accessories; we were not far from the faultless.
We can also add, again probably for technical reasons, the lack of SD-card port on the main camera and its 32 GB of internal capacity, it will have to fall back on the ports present on the two expansion modules.
Despite these shortcomings, the DJI Action 2 offers real innovations, with its mini format, its very complete attachments and accessories, and a versatility that we were able to verify on several occasions: sometimes action cam during a paragliding descent, vlog camera for daily life and even webcam to troubleshoot, nothing seems inaccessible to it, and this is what makes its strength, considering its format.
The DJI Action 2 is available for sale starting now from $519.